Let us help you set up hosting for your website.
We can assist in setting up your account, specifying your company needs and transfer of existing websites. We are partnered with Network80 Internet Web Hosting, a highly recommended hosting company that guarantees 24/7 up time!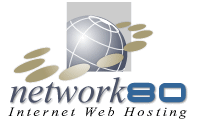 Network80 is a leading provider of hosting for small to mid-size businesses with mission-critical Internet operations. Our World-class data center features ultra fast Internet connections to all major backbones, data center infrastructure for non-stop operations, and 24 x 7 in facility live tech support.

Providing our customers with quality support is our first priority. All of our customers receive free technical support 24 hours a day, 7 days a week, 365 days a year. Our staff is committed and trained to provide you with the highest level of support available.
---
Whether you need a single component or a complete package we provide a full range of fast, reliable Internet Service Products, from personal web pages to e-commerce applications.
Free Domain Name or Use a Domain You Have Already Registered!
No catches, no gimmicks - sign up for our Virtual Web Space package, and not only will you get terrific hosting rates, we'll also pay for the cost of your new domain name registration. We'll keep paying it every year too, as long as you're a Network80 customer! The domain name is yours registered in your name!
For Pricing, please click here. For more information, click here.
Virtual Web Space:
Unlimited Microsoft® FrontPage® access
Unlimited FTP Access
3 GB Data Transfer Per Month
250 MB Disk Space
50 POP3 Email Accounts
Web Mail Access
Search Engine Submission
Active Server Page Support
CDO/NTS Component Support
PHP Server Page Support
99.9% Uptime Guarantee
.NET Support
Unlimited Email Aliasing
Website Activity Reporting
24x7 Tech Support
Virtual Domain Support (www.you.com)
25 MB Secure Server Space (SSL)
25 MB Microsoft® SQL 2000 Database
Free Domain Name
Personal Web Space:
Unlimited Microsoft® FrontPage® access
Unlimited FTP Access
1 GB Data Transfer Per Month
50 MB Disk Space
5 POP3 Email Accounts
Web Mail Access
5 Email Aliases
Active Server Page Support
For Non-Business Related Websites
PHP Server Page Support
Virtual Domain Support (www.you.com)
.NET Support
Website/Database Design & Programming:
Special Web Development Prices
We offer a variety of prices and packages to meet your special needs. Whether you are new customer, needing web consulting and direction, or have an existing site that needs a new look or an entire site overhaul, we can design a special web package to meet your special requirements. We guarantee our work 100% and ensure complete satisfaction. Moreover, we realize your business has a budget you need to adhere to and thus, can accommodate any budget. Get a free price quote now!

Our web design packages include the most options for the lowest price compared to our competition!