War on Iraq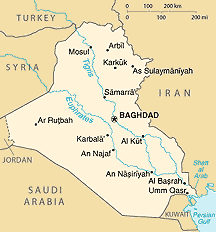 Get the latest briefing of the War on Iraq with the
War Tracker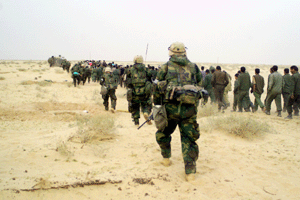 U.S. Marines from the 2nd Battalion, 1st Marine Regiment escort captured enemy prisoners of war to a holding area in the desert of Iraq, during Operation Iraqi Freedom. DoD photo by Lance Cpl. Brian L. Wickliffe, U.S. Marine Corps.
United States
Listing of Armed Forces Bases, including Base Information, Links and Maps.
Excellent resource guide for those who are planning to travel in North America. Has travel guides, trip information, click able maps, directions, and more
The population of the United States is 281,421,906 people (April 1, 2000). The population has grown 13.1% since 1990.

Quick, easy access to facts about people, business, and geography
Military Shopping Locations
Worldwide listing of Military Commissaries.
Must be an Authorized ID Card Holder to enter this site and obtain information on Exchange locations.