---
American Logistics Association
The American Logistics Association is a voluntary, nonprofit organization of manufacturers, manufacturer's representatives, brokers, distributors, publishers, and other companies that sell or provide products and services to the military resale systems and MWR/Services. At ALA, we use the term "military resale systems" as a broad term that includes all military exchanges and commissaries, Department of State stores, Veterans Canteen Services, as well as all of the armed forces' Morale, Welfare, and Recreation (MWR) activities that involve a product or service.
A global organization, ALA is represented by members in countries around the world. Our members are diverse, with companies of all sizes in a wide variety of industries, but we all have one commonality.
We are advocates for military total quality of life
62nd Annual Convention
September 29 - October 1, 2009
Baltimore Waterfront Marriott
Baltimore, MD
Registration is now open!
ALA recognized for support of the DeCA West CONUS Store Directors Conference: 7 – 9 July 2009
From left to right: CSM Victor Garcia, DeCA Senior Enlisted Advisor, Philip E. Sakowitz, Jr., DeCA Director & CEO, John Wilson, ALA Southwest Chapter President, CPFD, Russ Moffett, VP, Commissary Affairs, ALA , Pat Nixon, President, ALA , Keith Hagenbuch, Acting Director DeCA West, Master Chief Valdez, DeCA West Senior Enlisted Manager.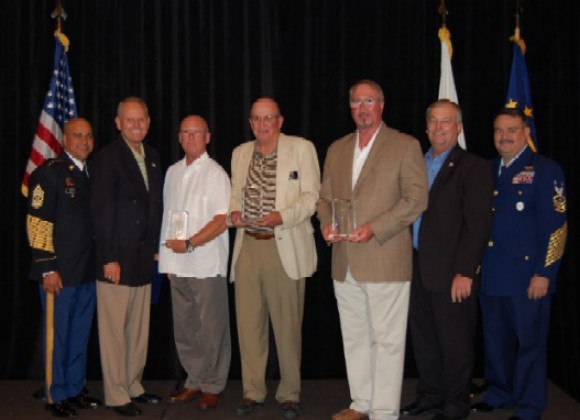 Military's oldest and largest exchange system to welcome new commander
DALLAS – The Army & Air Force Exchange Service (AAFES) is scheduled to welcome its new commander in a 3 p.m. ceremony at the military command's headquarters on Aug. 15.
Brig. Gen. Keith Thurgood will take command of the $8.9 billion military retailer from Maj. Gen. Bill Essex. General Thurgood arrives to AAFES from the Army Reserves where he served as the Assistant Division Commander of the 95th Division in Oklahoma City, Okla. Chairman of the AAFES Board of Directors and Deputy Chief of Staff of Manpower and Personnel Lt. Gen. Roger Brady will preside over the ceremony.
During General Thurgood's more than 24 years of service, he has been assigned to a variety of command and staff positions, including command at company, battalion and brigade levels. His overseas assignments include an extended tour in Germany and multiple training assignments in Japan and Korea.
General Thurgood is a graduate of the Transportation Officer Basic and Advance Courses, the U.S. Army Command and General Staff College and the U.S. Army War College. He holds a Bachelor of Arts in Political Science from Brigham Young University, a Masters of Science in Business Administration from Boston University, a Masters in Strategic Studies from the Army War College and a Ph.D. in Candidate Organizational Management and Leadership from Capella University.
"Keith's military and business experience are well suited for AAFES," said General Brady. "The knowledge he has gained during his civilian business and military service careers are the perfect combination needed to continue strengthening the exchange benefit."

General Essex will retire from the Air Force on Oct. 1, 2007, after more than two years of service at AAFES.
---
DeCA receives 'clean' audit for fifth straight year
By Kevin L. Robinson, DECA
FORT LEE , Va. – Five consecutive years and counting: that's the mark the Defense Commissary Agency has set after independent auditors gave DeCA an unqualified opinion for fiscal 2006. In business, an unqualified opinion says that an organization's financial statements accurately represent the firm's financial standing and were done according to accepted accounting principles.
The unqualified opinion puts DeCA in a select group with only three other DoD agencies that have received five consecutive unqualified or "clean" opinions. The other agencies are the Military Retirement Trust Fund, the Defense Contract Audit Agency and the Defense Finance and Accounting Service.
"We receive about $1 billion a year in federal funding to deliver a commissary benefit that generates more than $5 billion in sales," said Patrick Nixon, DeCA director and chief executive officer. "The public has trusted us to be good managers of their tax dollars, and at DeCA we take that trust very seriously. This fifth clean audit opinion means we are doing the right thing with our expenses and reporting methods."
DeCA's financial statements and internal controls are reviewed annually by KPMG, an international auditing firm. Internal controls are the methods that an organization creates to ensure that the process of compiling information for its financial reporting is efficient and accurate.
There are five possible outcomes when KPMG checks DeCA's finances. They range from no opinion at all to an adverse opinion to an unqualified opinion, the top of the ladder.
Throughout the year, DeCA employees are laying the groundwork for a clean opinion by being accountable for doing their best in delivering an efficient and effective commissary benefit, said Pam Conklin, DeCA's chief financial executive. "This clean opinion is everybody's business."
Because DeCA is a nonprofit agency, its balance sheet must reflect its net "position," which indicates how well it manages its funds. Profit-making organizations use net "worth." During the evaluation period, KPMG auditors conduct site reviews and testing at various locations including commissaries, DeCA headquarters, regional offices, as well as outside organizations, such as the agency's human resources operations division and Defense Finance and Accounting Service-Columbus. The reviews and testing generally cover such areas as time and attendance, annual inventories of resale stocks, equipment inventories, property accountability, and information technology controls over financial systems.
"Any system is only as good as its people and DeCA has some of the best," said Carol Burroughs, chief of the accounting compliance and reporting division. "DeCA has been so successful for a number of reasons – conscientious and experienced employees, excellent internal controls, ongoing process reviews and improvements, management involvement and support, and the herculean efforts of the accountants to make it all come together for each quarterly reporting period."
The audit process for fiscal 2007 is already well under way as DeCA prepares to raise the bar higher to meet revised auditing standards recently put into effect for fiscal 2007 financial statement audits.
---
DeCA receives top score in DoD for its statement of assurance
By Kevin L. Robinson, DECA
FORT LEE , Va. – In today's business climate, an organization is judged by its financial responsibility and reporting integrity. The Defense Commissary Agency became the poster child for such accountability after receiving the highest score in the Defense Department for its fiscal 2006 statement of assurance.
DeCA led 34 DoD activities with a score of 3.2 on a 5-point scale, up 0.4 points from its fiscal 2005 score. The United States Special Operations Command was second with 3 points and six other organizations were tied with 2.8.
"It's a foundation of good business operations to have everyone – from the cashier to the store director to the zone manager to the agency director – understand the fiscal responsibilities involved with delivering the commissary benefit," said Patrick Nixon, DeCA director and chief executive officer. "Years ago, we made a commitment to make wise business decisions with our future investments and keep a keen eye on how we manage our budget. Our statement of assurance echoes that commitment."
All DoD activities are required to submit their statement of assurance by Sept. 1. The statement is outlined in the Office of Management and Budget's Circular A-123, which defines management's responsibility for internal control in federal agencies. Internal controls are defined as the organization, policies, and procedures that managers use to ensure an agency meets the three objectives of its internal control: (1) the efficiency and effectiveness of operations; (2) the reliability of financial reporting; and (3) the agency's compliance with all laws and regulations.
The statement of assurance represents an agency director's assessment concerning the effectiveness of his agency's internal controls. "Because of DeCA's dedication to sound administrative and program controls, in addition to our fifth unqualified or 'clean' audit opinion, Mr. Nixon was able to give an 'unqualified' statement of assurance," said Pam Conklin, DeCA's chief financial executive, "meaning that there were no material weaknesses in our control systems that required reporting outside of the agency."
The Office of the Secretary of Defense (Comptroller) scores an agency's statement of assurance in five areas: report timeliness; format to include accuracy and completeness of the report; extent of component-wide program execution; extent of component-wide training conducted; and weakness reporting. DeCA vaulted to the top by maxing out the score in the first four categories, achieving its fifth straight unqualified or "clean" audit opinion and demonstrating excellence in implementing even tighter restrictions for its internal controls established by Appendix A of Circular A-123, said Tim Hoke, internal control program manager.
"OMB (Office of Management and Budget) issued Appendix A in 2005, with fiscal 2006 being the first year of implementation," he said. "DoD then issued specific guidance on how to comply with its requirements. It was DeCA's implementation of this guidance that made the agency an outstanding performer and a standard-bearer in DoD for fiscal responsibility."
The Defense Department's emphasis on financial accountability spelled out in Circular A-123 reverberated from the Sarbanes-Oxley Act of 2002, legislation passed in response to a number of high-profile corporate and accounting scandals. Sarbanes-Oxley set new requirements and raised existing standards to evaluate and disclose the effectiveness of an organization's internal controls regarding financial reporting. The law also stipulated that organizations' financial reports withstand the scrutiny of independent audits, and chief executive officers and chief financial officers must certify the accuracy of those reports.
Nixon applauded the agency's management analysts and accountants for their many hours of diligence in preparing the statement. The preparation of the document alone is an exercise in teamwork and attention to financial details – attention to detail attributable to DeCA's many assessable unit managers at headquarters and region level who are charged with gathering information on the internal controls performance of their directorates.
DeCA's growing reputation for financial vigilance comes from a top-down management philosophy that has made sound fiscal management a culture of responsibility throughout the agency, Nixon said.
"The real heart of internal control is simply making sure that every one of us is doing our jobs to the best of our abilities, and that someone is always making sure that the job has been done correctly," he said. "The more we focus on the risks involved in our business, and the steps we take to minimize those risks, the better we will be able to provide the invaluable benefit we provide to our customers
---
Eight Billion Dollar Military Retailer Names Michael P. Howard as Chief Operating Officer
DALLAS – The Army & Air Force Exchange Service's military leadership has named Chief Financial Officer Michael P. Howard as the 111-year old retailer's new Chief Operating Officer as of Oct. 21, 2006.
"I first assessed the skills and attributes I believe would be most needed to fit the situation AAFES must deal with in the next couple of years," said AAFES' Commander Maj. Gen. Essex. "AAFES faces the toughest financial picture in 2007 and 2008 that it has faced in many years. Capital programs to support BRAC and restationing are very costly, competition outside the gate is increasing, and the need for military Morale, Welfare and Recreation dividends will only continue to grow." Story
---
Nixon to received American Visionaries Award
By Cherie Huntington, DECA
FORT LEE, Va. – Patrick Nixon, chief executive officer and acting director of the Defense Commissary Agency, received the American Visionaries Award from National Industries for the Blind (NIB).
This inaugural award recognizes Nixon for his "positive impact on the lives of people who are blind."
Jim Gibbons, NIB president and chief executive officer, praised Nixon for his commitment and innovative thinking. "Under your leadership, the Defense Commissary Agency has expanded employment opportunities for literally all of our military resale associated agencies," Gibbons wrote in the award letter. "…You have not only left a mark, you have contributed to our foundation for the future."
NIB contracts with DeCA to supply and stock kitchen and household items such as brooms and mops, time savers and convenience items usually featured on "J-hooks" attached to commissary shelves. Sales have grown to more than $22 million annually to DeCA.
Nixon became DeCA's chief executive officer in June 2001 after serving nearly a year as director of DeCA's former Eastern Region.
Nixon is a 1972 graduate of the University of Maryland. He earned a juris doctor degree in 1978 from the University of Baltimore School of Law and completed graduate studies with the European Institute of Public Administration in Brussels, Belgium, and Harvard's John F. Kennedy School of Government, in Cambridge, Mass. He holds advanced studies certificates in corporate governance from Tulane University School of Law and its Freeman School of Business.
His other awards include the Presidential Rank Award for Meritorious Senior Professionals and Executives, Secretary of Defense Medal for Meritorious Civilian Service, Senior Executive Service Exceptional Performance Award, Defense Commissary Agency Distinguished Civilian Service Award, and four DeCA Meritorious Civilian Service Awards.
The Defense Commissary Agency operates a worldwide chain of commissaries providing groceries to military personnel, retirees and their families in a safe and secure shopping environment. Authorized patrons purchase items at cost plus a 5-percent surcharge, which covers the costs of building new commissaries and modernizing existing ones. Shoppers save an average of 30 percent or more on their purchases compared to commercial prices – savings worth about $2,700 annually for a family of four. A core military family support element, and a valued part of military pay and benefits, commissaries contribute to family readiness, enhance the quality of life for America's military and their families, and help recruit and retain the best and brightest men and women to serve their country.
---
Army Announces Next AAFES Deputy Commander
DALLAS – The U.S. Army has announced that BG James Lewis Kennon will be the Army & Air Force Exchange Service's (AAFES') next Deputy Commanding General. BG Kennon, currently Director, Logistics, Engineering and Security Assistance, J-4, United States Pacific Command, Camp H.M. Smith, Hawaii, is expected to report to AAFES' World HQ in Dallas before the end of July.
"We are excited about the skill set BG Kennon will bring to AAFES," said AAFES Commander Maj. Gen. Bill Essex. "His background and experience in logistics should be a valued asset to AAFES' global mission of service and support."
A graduate of Chaminade University Honolulu, Hawaii with two Masters Degrees from Central Michigan University and National Defense University , BG Kennon's 36-year career has taken him from Vietnam to Hawaii and to the majority of the Army bases in between. "The Army has allowed me to visit almost every corner of the globe," said BG Kennon. "At every stop, AAFES was there for me and my family. I look forward to playing a part in maintaining the benefit AAFES is known to deliver."
AAFES operates thousands of facilities worldwide; including more than 12,000 facilities in more than 35 countries and in 49 of the 50 states. These include 3,150 retail facilities of which 161 are main stores on Army, Air Force, and Marine installations around the world. AAFES also plays a large role in contingency operations with 55 stores throughout Operations Iraqi and Enduring Freedom.
FORT LEE, Va. – A commissary industry committee is spearheading a first-ever online survey aimed at finding out more about the commissary shopping habits and perception of savings of active duty military service members.
The survey is being funded, conducted, and compiled by the Consumer Awareness Team, a commissary industry committee that researches and funds projects to help military service members understand the value of their commissary benefit. At stake for anyone taking the survey: two minutes of their time and a chance to win one of 250 commissary gift certificates valued at $50 each. The certificates are also funded by industry.
Since the survey is being conducted and funded by private industry, the survey is not available at commissaries, but can be taken online at http://catsurvey.shortsurveys.com. The online survey will be available through September.
FORT LEE, Va. – The hard work produce managers put into winning DeCA's produce merchandising awards pays big dividends for commissaries in terms of customer loyalty and satisfaction.
That's because an attractive, well-maintained produce department is one of the leading criteria customers use in determining where they shop, and merchandising is the key to a successful produce department, said Carroll Allred, DeCA's produce category manager.
Produce managers in five commissaries put their creativity to work last July displaying and promoting fresh fruits and vegetables with a summer picnic theme to win DeCA's third annual produce merchandising awards. The winning stores by category and their produce managers are:
"I congratulate all our winners and I'm especially pleased to see how close the competition was this year with co-winners in the large store category. This level of excellence is indicative of how the commissary delivers quality as well a value to our customers around the world," said Bob Vitikacs, DeCA's director of operations and product support.