Deployment Savings Guide
---
Ten Tips to Stretch your Grocery Budget
by Meri Rettinger, CinCHouse.com
With long pay periods drawing near many are taking notice of their budget. While military families may not be able to cut back on car payments and other "fixed" bills, more than likely $10, $20 or even more can be saved on a weekly grocery bill. Below are ten tips to stretch your grocery dollar.
Set a Grocery Budget
Decide on an amount out of every pay check for groceries. For example; budget $200 out of every pay check for groceries. Then think of it as a challenge and see how little is really spent. With whatever is left over use it for something fun such as a pizza night with the kids or dinner out with your spouse. Setting a limit and then adhering to it or even staying under it, makes shoppers think harder about their list and what is "really" needed.
Make a Menu
The worst thing that can be done is walking into a grocery store without a list. Every payday count how many days it is until the next payday. If it is fifteen days then there will have to be fifteen meals so plan them accordingly. For instance making spaghetti for meal number one will add noodles and spaghetti sauce to the list. A person may also like some garlic bread and a salad so they will add French bread and lettuce to the meal. If there is a menu for the next two weeks a shopper can go through the cupboards before they leave and avoid buying tomato sauce or salad dressing that may already be on hand. Having a menu also avoids mid week runs to the store. We all know running in for "one thing" usually means walking out with five.
Shop the Local Commissary
This is one of the many benefits to service members and their families. Take advantage of it! DECA and CinCHouse have both conducted independent studies and have found the average consumer saves 30% on their grocery bill when utilizing the commissary. Independent studies have found this figure to be as high as 40% in some areas. That is quite a savings and you do not have to do anything for it but shop at the commissary! Think how much your coupons will help on top of the special prices already being given.
Shop Monday or Tuesday
Monday and Tuesday are the least busy days of the week to grocery shop. We all know what it can be like on payday weekend in the commissary. The choices are to go with the flow or risk being run over by a frustrated mom and her 3 kids! Without the crowd dictating your pace the opportunity is given to take time, compare prices and benefit from any specials they may be running. Most commissaries get there "fresh" products like fruits, vegetables and fish on Tuesdays.
Pick and Choose
While the commissary is the best over all deal for fruits, vegetables, package and canned goods some may want to look into buying bulk for paper goods, meats and cleaners such as laundry detergent. Take a Monday and compare prices between the commissary and warehouse stores such as Costco or Sam's Club. As a shopper it may be surprising at how much money can be saved. I personally have found meat and diapers to be cheaper at Costco than the commissary.
Eat Healthier Meals
A great way to save money is eating healthy. By eating more vegetables and cutting out red meats and average of $2.00 per evening meal can be saved. Load up on foods such as fresh fruits and vegetables, beans and rice. Try to eat smaller portions of foods like cheese and red meat. Try switching from whole milk to skim milk. There is up to a $.40 cent difference in price between these two varieties of milk.
Cut the Junk
We all love chips, cookies and pop but going overboard with them is not only unhealthy but expensive. By cutting out one bag of chips per week $2.00 can be saved or $8.00 in a month. Not having pop in the house helps children choose healthy drinks such as apple juice, orange juice and even water instead of an "empty" soda. The same goes for fruits and vegetables as snacks instead of candy. Keeping junk food out of the house not only saves money but keeps off unwanted weight by compelling mom and dad to eat healthy snacks as well! Turn junk food into an occasional treat when eating out or going to the movies.
Cook From Scratch
This is by far the easiest way to save money. Convenience meals are expensive. A prime example is kid's foods. The average Kid Cuisine costs $2.00. An alternative is purchasing 20 chicken nuggets for $1.50, a bag of French fries for $1.00, a jar of applesauce for $.89 and making a pan of brownies for $1.50. Total cost of your scratch meal is $4.89 and this feeds a toddler for 5 days compared to $10.00. That is a savings of $5.11 per week. While $5.11 does not seem like enough savings to bother with, add it to money saved on making suppers and desserts from scratch and it could be a savings over $100.00 per month.
Two Meals in One.
I often throw a roast in the oven along with carrots and potatoes and with the leftovers make soup the next day. If the only thing left is roast and no vegetables use the meat to make stroganoff. There are a lot of meals that can be made into two with the leftovers. Using them up provides a "free" meal and cuts back on waste, saving you money.
Feeding Kids
Most parents do not realize how much money they are throwing away on their child's unfinished dinner plate every night. The unfinished pieces of chicken or scoop of vegetables can always be saved for lunch the next day. A good rule for toddler children is to give them a 1/4th cup of everything and then give them seconds when they finish their plate. This eliminates food waste and can save you a pretty penny.
Keeping these tips in mind will definitely "pay off" in the grocery line!
Crabby Patties:
This low fat, low cost recipe is sure to be a healthy hit. Don't let the name mislead, there is no crab in this patty. The name makes kids more apt to eat it though as it is Sponge Bob's favorite too!
1 can tuna in water
1can salmon
1 egg or equivalent off egg beater
Half a pack of crushed saltines
Mix all ingredients together. Form 4 to 5 mid sized "patties". Fry in pan coated with cooking spray until golden brown on both sides. Served with cream corn and a dinner salad this meal costs approximately $3.75 to make. Serves a family of four.
Chili:
Chili is always a hit! When made with ground Turkey Sausage it keeps it healthy and low cost. A pound of lean hamburger can cost $3.50 while a pound of good Turkey Sausage costs $1.50. This saves the family $2.00 alone on supper.
1 lb Turkey Sausage
Onion powder or chopped onions to taste
Chili seasoning to taste
A pinch of ground Cayenne pepper
2 cans tomato sauce
1can chili beans
1 can pinto beans
1 can kidney beans
1 can pork n beans
Combine first four ingredients and cook until turkey sausage is browned entirely. Add tomato sauce and beans and heat on medium, 15 minutes, stirring occasionally. This dinner costs approximately $5.00 to make and for around $.50 more a grilled cheese sandwich can be added to the meal. Serves a family of four.
Meri Rettinger is an advisory board member and columnist for CinCHouse.com, which recently released Married to the Military: A Survival Guide for Military Wives, Girlfriends, and Women in Uniform (Simon & Schuster 2003). Please email your questions to her at meri@cinchouse.com.
Commissary provides service and savings during deployments
By Carole Young
Military service members make many sacrifices to defend our country, among them: personal, professional and financial. All three seem to coincide when a service member is deployed or a Guard or Reserve member is activated, sometimes facing a reduction in household income.
The Defense Commissary Agency (DeCA) can help by providing significant grocery savings of 30 percent or more to service members and their families – when they use their commissary benefit regularly. Shoppers can expect to save even more on meat and produce purchases and frequent case lot sales help shoppers realize even bigger savings.
In addition to working hard to ensure exceptional savings for the military community, DeCA is committed to providing excellent name brand products, produce and meats, and efficient service that's second to none. Grab-and-Go sections, early bird and assisted shopping and 30-minute parking spaces are conveniences you'll find at many commissaries. Cooking demonstrations, "Meat Made Easy" preparation instructions and recipes are all part of DeCA's commitment to service.
Take note of some of these tips to help make deployments easier – and make the most of commissary shopping.
Arm yourself with information. Before deploying, make sure family members are provided with the correct information and documentation needed for commissary shopping. Tips for preparing for deployment can be found on http://deploymentlink.osd.mil/deploy/prep/deploy_checklist.shtml.
Obtain ID cards. All family members (spouse and children 10 years of age and older) should have ID cards. An ID card is required to make commissary purchases and may also be required at the gate if the commissary is located on an installation with increased security precautions.

Guard and Reserve members should have a commissary privilege card (CPC). Unless activated, Guard or Reserve members and authorized family need to show a CPC along with a military ID card to take advantage of their 24 shopping days at the commissary. Service members should go to their local unit to get information concerning the CPC. DeCA does not issue the CPC; the unit does. For more information on Guard and Reserve shopping privileges visit http://www.commissaries.com/guard_reserve.htm.


Shop the commissary every day. When serving on active duty or in a training status, deployed service members and activated Guard or Reserve members and authorized family members have unlimited usage of the commissary. Guard and Reserve do not need to use their CPC: Active duty ID or copies of active duty orders are all you need.


Do your homework. Know the location and gate entry procedures for the military facility nearest you. Check installation entry requirements and directions before traveling to the commissary. Approaching an installation security checkpoint occupied by armed and uniformed personnel can be intimidating to the uninitiated. Reduce anxiety by being familiar with the gate entry process. Besides the commissary, there are numerous services available on installations for use by families of deployed service members; know where they are located and their hours of operation.


Do a little shopping homework. Find out what's on sale at the commissary before you even walk in the door. Visit DeCA online at http://www.commissaries.com and click on the "Locations" button to find a listing of commissaries. Each store has its own Web page with location, hours of operation, store management and special events. Click on the "Shopping" button to find out what's on sale. Use coupons to save even more!

Save money with Manager's Specials. Commissaries feature hundreds of unadvertised specials providing additional savings to customers. Commissaries also receive price reductions on locally delivered items such as beverages and snacks. Shopping more frequently, not just payday, often nets additional savings.

Aunt Louise visiting from Boise doesn't have to sit in the car. Depending on installation entry policies (do check ahead), visitors may accompany you when you shop the commissary, but only the ID card holder may make purchases.


Craft a special commissary care package for your loved one. Special "deployment centers" can be found at 31 commissaries on key installations. These centers offer a varied assortment of items available for assembling "care packages" and are located at the front of the store. Nonperishable food items such as nuts, instant soup, jerky, dried fruits and sport drinks are some of the items available. Health and personal care items such as wipes, lip balm, insect repellent and dental floss along with batteries are additional items that can be found in the deployment centers.


Send the gift of commissary savings. That's the "Gift of Groceries." It's a commissary gift certificate anyone can purchase over the Internet or by a toll free call, but only authorized shoppers can redeem them at the commissary. Good at any commissary, they can be purchased most easily online at www.commissaries.com to help families of deployed service members. They can even be donated through the USO, the Fisher House Foundation Inc. or the Air Force Aid Society to military families in need.


Shop smart. Families of deployed service members often eat less "big meals" at home, but eating out at the local pizza parlor or fast food restaurant is not the way to save money. Skip the "desperate" dinner out and pick up fast and convenient meals at the commissary instead. Bring home popular and inexpensive meals such pizza, hot dogs and frozen entrees for the family. Stock your pantry shelves with a classic budget-friendly (and universally kid-approved) food: macaroni and cheese. Bagged salad prices at the commissary can't be beat and Grab-and-Go or deli sections have freshly prepared sandwiches and side dishes.


Remember, nothing beats preparation for saving money and being ready for deployment. That and shopping in your commissary!
- DeCA -
The Defense Commissary Agency operates a worldwide chain of nearly 280 commissaries providing groceries to military personnel, retirees and their families. Authorized patrons purchase items at cost plus a 5-percent surcharge, which covers the costs of building new commissaries and modernizing existing ones. Shoppers save an average of more than 30 percent on their purchases compared to commercial prices – savings worth more than $2,400 annually for a family of four. A core military family support element, and a valued part of military pay and benefits, commissaries contribute to family readiness, enhance the quality of life for America's military and their families, and help recruit and retain the best and brightest men and women to serve their country.

---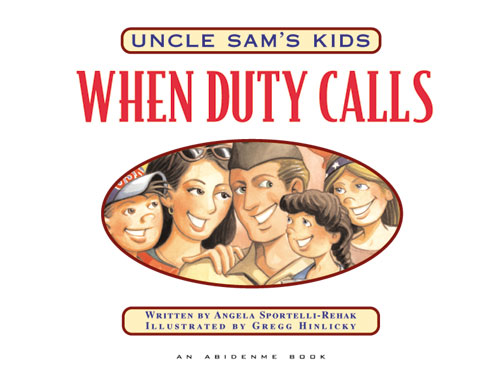 Uncle Sam's Kids in When Duty Calls is the first of a brand new series of children's books for the military child
that helps parents to help children understand often complicated questions like...
what is deployment?
where is Mommy or Daddy going?
When will they return?
Will we still be a family?
---
Military Wives Flock to Internet for Help with Mass Deployments
VIRTUAL REALITY – As tens of thousands and active duty, Guard and Reserve servicemembers deploy to the Middle East , their wives are turning to CinCHouse.com for help in coping with marital separation, single-parenting and financial hardship.
---
American Communities Battle to Help Military Families
Operation Homefront brings peace of mind to servicemembers deployed to Middle East
SAN DIEGO, CA – As tens of thousands of troops deploy from this and other military towns across the United States, their friends and neighbors down the street are joining together to help the families left behind by deployed servicemembers.
---