Military - Wedding Special
---

New Photography Styles Change Wedding Industry
Today's Couples Incorporate Personalized Touches, Lasting Memories
Cleveland, Ohio (June 22, 2009) – Long gone are the days when wedding albums were filled with posed portraits of the bridal party standing on the church steps and families smiling in front of a simple backdrop. Unusual photography locations, photojournalistic styles, and dramatic lighting dominate wedding photos today as couples strive to record every aspect of the big day in their own unique style. This trend towards more customization has been embraced by many companies, including PhotoWorks.com, from the online photo sharing division of American Greetings Corp (NYSE: AM), which incorporates personal photography into one-of-a-kind gifts for all occasions.
Trend experts with the online photo sharing site note that even pre-wedding photography occasions have been updated to allow for more artistic documentation of this special time in couple's lives. This can be seen in the trend toward engagement photo sessions where the couple originally met as well as save-the-date photos taken in playful poses and locations. "Trash the dress" sessions were also created, a post-wedding photo shoot where the bride and groom dress in their gown and tux again for photos in places they wouldn't normally venture into on their wedding day, such as fields, urban settings, and really adventurous couples can even be seen jumping into oceans, rivers, and fountains.
As wedding photography has evolved, so have the options for incorporating these images, as well as personal photos of the couple into distinct wedding gifts that capture the essence of their courtship. To meet the needs of photo-loving brides and grooms, PhotoWorks has created a fresh assortment of personalized photo gifts and accessories, utilizing artistic patterns and layouts to create wedding gift options that are both thoughtful and memorable.
"As photography becomes an increasingly important element of the wedding, so does the level of customization that both couples and wedding guests strive to incorporate into the occasion," said Sally Babcock, senior vice president and general manager of PhotoWorks. "Taking the time to recognize and celebrate what makes their relationship so special with a one-of-a-kind gift is the key to creating a touching memento they will cherish forever."
Photo gifts worth a thousand words
Personalized photo books are a popular way to record the journey that the bride and groom have taken together in an artistic manner. With multiple layout options, it's easy to create a custom story of the couple's lives that they will share, display, and treasure. A variety of cover options and creative templates are available to suit each couple's unique style, including rich damask prints, as well as other romantic patterns and photo layouts.
Other photo gifts make fun, easy additions to items selected from the bridal registry, such as personalized photo magnets, mugs, mouse pads, even throw blankets. Photo luggage tags can be used as a unique gift tag and then immediately used by the couple on their honeymoon voyage.
Consumers can create customized photo gifts for any couple at www.PhotoWorks.com . The perfect card to match that thoughtful gift for weddings, showers, and bachelorette parties can be found at leading specialty, mass, grocery and drug store channels nationwide. Visit www.corporate.americangreetings.com for more information and store locations. You can also follow us on Twitter at, www.twitter.com/amgreetings.
About American Greetings Corporation
For more than 100 years, American Greetings Corporation (NYSE: AM) has been a manufacturer and retailer of innovative social expression products that assist consumers in enhancing their relationships. The Company's major greeting card brands are American Greetings, Carlton Cards, Gibson, Recycled Paper Greetings and Papyrus, and other paper product offerings include DesignWare party goods, American Greetings and Plus Mark gift-wrap and boxed cards and DateWorks calendars. American Greetings also has the largest collection of electronic greetings on the Web, including cards available at AmericanGreetings.com through AG Interactive, Inc. (the Company's online division). AG Interactive also offers digital photo sharing and personal publishing at PhotoWorks.com and Webshots.com and a one-stop source for online graphics and animations at Kiwee.com. In addition to its product lines, American Greetings also creates and licenses popular character brands through the American Greetings Properties group. Headquartered in Cleveland, Ohio, American Greetings generates annual revenue of approximately $1.7 billion, and its products can be found in retail outlets domestically and worldwide. For more information on the Company, visit http://corporate.americangreetings.com.
---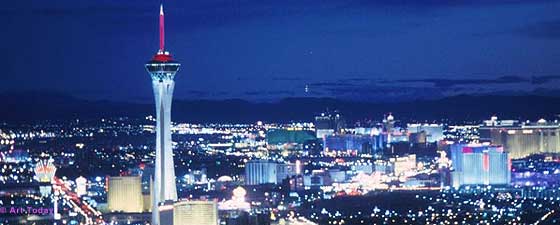 Weddings A La Las Vegas Style
The Viva Las Vegas Wedding Chapel can be transformed like a stage show set to "produce" your wedding. A traditional wedding ceremony offers two venues---a garden chapel Inspired by the sweet fragrance and timeless beauty of an intimate French garden, or an elegant wrought-iron gazebo, covered with silk roses and vines. Brides and grooms can let their imaginations soar and their wedding dreams come true, as we also offer spectacular themed weddings, complete with theatrical lighting and smoke effects, sets, and costumed characters. Our Elvis and themed wedding packages make fun and memorable renewal-of-vows ceremonies or commitment ceremonies (for those couples who wish to make their feelings known without any legal formalities.) For more, click here.
Military Service, Firemen and Police personnel, book your wedding with us and Viva Las Vegas Wedding Chapel will pay your Minister fee.

It's our way of thanking all of you who serve our country with pride!