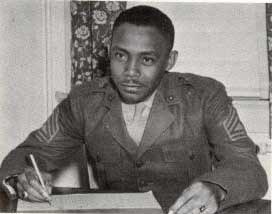 James E. Stewart Sr. sworn into the Marine Corps 15 Aug, 1942, Oklahoma City
_________________________________________________________
My father was one of the first black Marines. I
was born at Montford Point.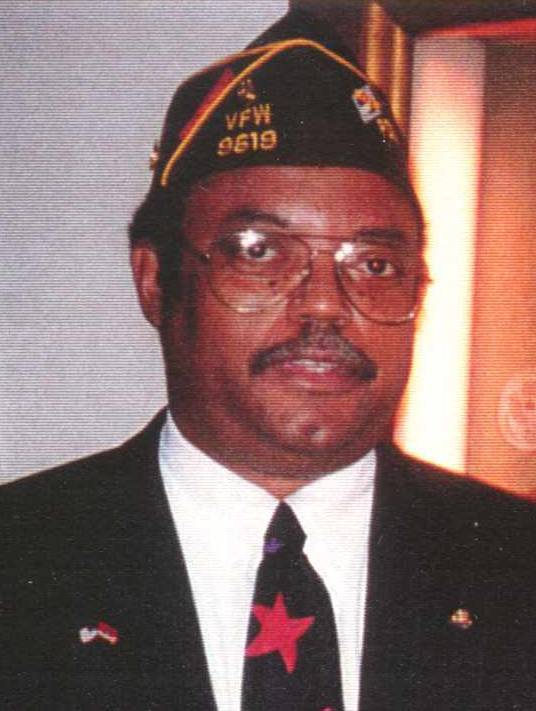 James Stewart Jr.
This is a story that needs to get out. There
were black Marines fighting in WWII on all the famous islands. Please sign
our guest book.

Maryland Montford Point #28

This is the story of my father, one of the first blacks in the Marines....

James E. Stewart was born in Plano, Texas, September 16, 1912, son of
Reverend Zena T. Stewart and Maggie Feglee Stewart. Reverend Stewart, an oil
mill laborer, moved to Oklahoma City, Oklahoma in 1926.

James attended Orchard Park Elementary School from kindergarten through the
sixth grade. At age 14, James and his mother moved to Wichita, Kansas. He
enrolled in the 10th grade at Wichita and observed for the first time the
vast difference in "separate but equal" schools. While at Wichita North High
School, he became the first of his race to "make" a Wichita high school
football team as well as the All-City team. James graduated from Wichita High
North in 1931

James moved back to Oklahoma City and worked as a theater manager, restaurant
owner operator, and later table waiter at numerous places. It was while
working as captain of banquet services at the old Biltmore Hotel that the
late Thomas H. Sterling, Oklahoma City District Manager for the Oklahoma
Natural Gas Company, asked James to take a job as janitor for his firm.
Within a short period, after joining Oklahoma Natural, through the friendly
overtures of fellow employees, the waiter turned janitor was sorting mail,
making local office supply purchases, operating the Addressograph machine and
performing other nontraditional duties.

His activities in the formation of a Douglass High-Langston Athletic
Association to strengthen the sports program at these schools and his efforts
to have the city provide a swimming pool for Negroes drew the attention of
Editor Roscoe Dunjee, Publisher of the Black Dispatch Newspaper. Thus he was
invited to join the Negro Business League.

Jimmy's civic endeavors prior to 1942 were primarily limited to the Negro
Business League on the local and national level. Meanwhile, officials on both
the local level and corporate headquarters at Tulsa of the Oklahoma Natural
Gas Company observed Jimmy's activities and decided to establish an Eastside
office with Jimmy as manager.

Without his knowledge or consent, Jimmy was elected vice-president of the
Oklahoma City Branch NAACP in 1942. Shortly thereafter the president of the
Oklahoma City local branch moved to California. Veteran local NAACP'ers
frowned on the young upstart's elevation to the presidency, but Editor Dunjee
insisted that the position would be Stewart's. Thus, without prior knowledge
or experience Jimmy Stewart was thrust into the field of Civil rights and
remained active more than a third of a century.

Montford Point Marines Aboard a Coast Guard Ship somewhere in the Pacific
James E. "Jimmy" Stewart, Sr., my Father of Oklahoma City, Oklahoma, was responsible for the first black to be recruited and sworn in the USMC. Stewart himself eventually enlisted shortly after. Jimmy volunteered for the U.S. Marine Corps in 1942 and served with the first battalion of Black Marines. He was discharged in 1945 with the rank; of Tech Sergeant and returned to Oklahoma City and the Oklahoma Natural Gas Company.

Shortly after his return, Jimmy learned that the Black veterans were not receiving their benefits and the Civil Service rolls in this district had not been open for competitive examinations in years. No Blacks were employed in city post offices above janitor and laborer. He organized veterans into a Provisional Committee on Veterans Affairs and within several months succeeded in having the Civil Service examination held, thus opening the way for blacks to serve as carriers and clerks in the Oklahoma City post office for the
first time.

The Oklahoma City branch NAACP elected Stewart president again in 1946 and he remained at the helm of that organization until his elevation to National Board of Directors of NAACP in 1957 at which time he declined to run.

Among the landmark cases in which the Oklahoma City Branch, in concert with the Oklahoma State Conference of Branches NAACP played a part during his tenure, were the Emma Lee Freeman case, known as the Equal Teachers Salary Case: the Ada Lois Sipuel Fisher case for admission of Blacks to State institutions for higher education.

His weekly news column, "Jimmy Says" was a three decade must for Black Dispatch readers. Jimmy was the prime pusher to get the book "Black History of Oklahoma" funded and served on its editorial advisory committee. He contributed a collection of over 30 years civil rights activities and Black History material to the Ralph Ellison Library to establish their Black Chronicles of History.

This picture was in the first 1965 MPMA National Convention Program
Jimmy served on:

Douglass High- -Langston University Athletic Association Board
The Southern Regional Council Board at Atlanta
The Negro Business League Board
The Oklahoma City and Oklahoma County Community Action Board
The Governor's Committee on Human Relations
The Oklahoma City Commission on Human Relations
Okiahomans for Progress
Episcopal Diocese of Oklahoma Committee on Church and Race
The Charter Revision Committee for the City
Oklahoma City Urban Renewal Authority
Chairman of the Oklahoma City Golf Commission
The Eastside YMCA Board
Chairman of the Council for Resocialization of Ex-Offenders
The Salvation Army Board
The Oklahoma City Branch NAACP Executive Committee
The National Board of NAACP
The Coalition of Civic Leadership
The Capitol-Med Center Historical Preservation Commission
Langston University Alumni
Langston Booster Club
The Oklahoma City Chamber of Commerce
Some of the honors or awards received through the years include:
City of Oklahoma City
The Grail Club
The Community Action Program
Oklahoma City Set, Inc.
Phi Delta Kappa
YMCA
Sertoma Club
Region VI NAACP
Afro-American Hall of Fame of Oklahoma, Inc.
Oklahoma Hall of Fame
Oklahoma Journalism Hall of Fame
Montford Point Marines Hall of Fame


1941-On June 25, FDR issued Executive Order #8802, Fair Employment Practice Commission which directed the Armed Forces of the U.S. to accept all recruits
"regardless of color, race, creed or national origin." First Lady Eleanor Roosevelt, A. Phillip Randolph, President of the Brotherhood of Sleeping Car Porters Union, Lester B. Granger, Executive Director of the National Urban League and Special Advisor to Navy Secretary James Forrestal were notable supporters of this order.

1942-June 1, the Marine Corps began recruitment of black enlistees. Montford
Point Camp, Camp Lejeune, New River, N.C. (original site of the Civilian Conservation Corps) amidst a dense Carolina pine forest, infested with mosquitoes, snakes and bears was established as the recruit depot and advanced training facility for all black marine enlistees.

James E. "Jimmy" Stewart, Sr., my Father of Oklahoma City, Oklahoma, was responsible for the first black to be recruited and sworn in the USMC. Stewart himself eventually enlisted shortly after.


On August 26th, Howard Perry of Charlotte, NC, was the first black recruit to arrive at Montford Point Camp.

H&S Battery of 51st Composite Defense Bn. was activated, Colonel Samuel A.
Woods, C.O.

In Sept. the "Mighty" 1st, 2nd and 3rd Recruit Platoons of forty men each
were formed.

1943-January 10th, activation of 1st Marine Depot Co. March 8th, activation
of 1st Ammunition Co. December 15th, activation of 52nd Defense Bn.

1944-Ivan R. Elmore of Washington, D.C., appointed Camp Band Drum Major and
Bandmaster of the Montford Point Band.

June 15th, 3rd Ammo, 18th, 19th and 20th Marine Depo Companies landed and engaged in fierce attacks with the enemy on Saipan and Tinian Islands in the Marianas. All elements wen awarded the Presidential Unit Citation.

July 21st, the 2nd and 4th Marine Ammo Companies landed on Guam, Marianas Islands. Cited for heroism and bravery, awarded the Navy Unit Commendation. Luther Woodward of 4th Ammo cited with Bronze Star.

September 15th, the 7th Ammo and 11th Depot Company took part in the struggle for Peleliu, Palau Islands with the Marine division.

MONTFORD POINT MARINES WERE THERE
1945-February 19th, the 8th Marine Ammo and 36th Marine Depot Companies landed on D-Day with elements of the First Amphibious Corps on Iwo Jima, Volcano Islands. The 34th landed on the 24th. Private James M. Whitlock and James Davis of the 36th received the Bronze Star for "heroic achievements in connection with operations against the enemy." All units of the Fifth Amphibious Corps were awarded the Navy Unit Commendation. Said Admiral Chester Nimitz, Chief of Naval Operations: "Uncommon valor was a common
virtue."

April 1st, Invasion of Okinawa, Ryuky Islands where the largest number of Black Marines served in combat. 1st, 3rd units 12th Ammo Co's; 5th, 18th, 37th, 38th Depot Companies, followed later with the 9th, 10th, 19th and 20th Depots.

Harry Lee Wright was first Black Marine to attain the rank of Sergeant Major.

September, occupation of Japan at Sasebo Naval Base, Forces included the 24th, 33rd, 34th, 42nd, 43rd Depot CO's. 6th, 8th and 10th Ammo CO's. The 36th followed in Oct.

November 10th, PFC Frederick C. Branch of Philadelphia was commissioned as a Reserve Officer in the U.S. Marine Corps, thus becoming the 1st Black to attain this distinction.

In Tsingtaoç, China the 12th Ammo and 20th Depots. In Tientsin, China the 1st Ammo and the 5th, 37th and 38th Depots assisted in the Occupational campaign.

1946-Last Recruit Platoons at Montford Point Camp, 573, 574, 575th. Montford Point trained 19,168 with 12,738 serving overseas during World War II. Only 7 of 12 Ammo Co's and 12 of 51 Depots saw combat in the war.

1948-Executive Order #998 1 issued by President Harry S. Truman ending color bias in the American armed forces.

1949-June 23rd, ALNAV 49-447, Secretary of Navy Francis P. Matthews issued
"Equal opportunity for all personnel in the Navy/Marine Corps without regard
of race, color religion or national origin."

Sept. 8th, First Black Woman Marine, Annie E. Graham, enlisted at Detroit,
Michigan.

Sept. 9th, Montford Point Camp was deactivated. Sgt Charles Shaw, USMC became
First Black Marine Drill Instructor at Parris Island Recruit Depot.

Warrant Officer Annie L. Grimes of Chicago became First Black Woman Marine
Officer.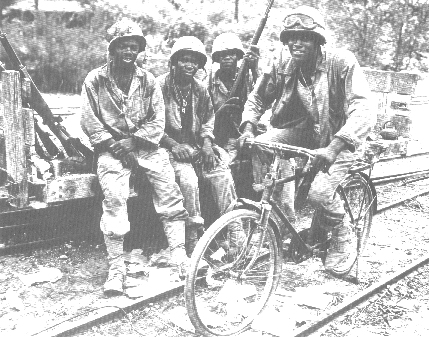 Photo: Department of Defense (USMC)
Members of the 3rd Marine Ammunition Company on Saipan in 1944
"Fourteen millions of loyal Americans have the right to expect that in a war for the advancement of the 'Four Freedoms' their sons be given the same right as any other American to train, to serve, and to fight in combat units in defense of the United States in this greatest war in its history," U.S. Representative Hamilton Fish (R-New York). - (The Four Freedoms, offered as goals by President Franklin D. Roosevelt, were freedom of speech and religion and freedom from want and fear.) Source: "Colored Troops in Combat," Congressional Record: House, February 23, 1944. pp. 2007-2008. From the book, "STRENGTH FOR THE FIGHT: A History of Black Americans in the Military," by Bernard C. Nalty.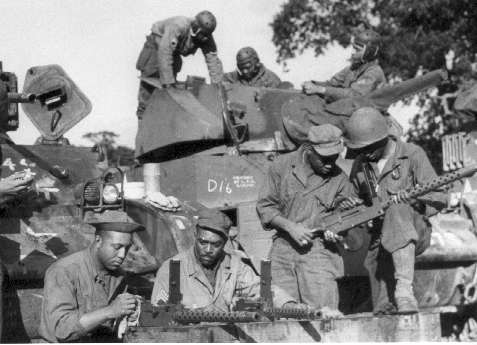 Photo: U.S. Army Military History Institute
Tankers of the 761st Medium Tank Battalion - European Theater of Operations, August, 1944