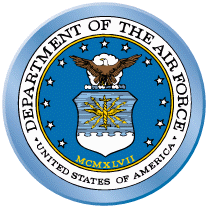 "Our Core Values, Integrity first, Service before self and Excellence in all we do, set the common standard for conduct across the Air Force. These values inspire the trust which provides the unbreakable bond that unifies the force. We must practice them ourselves and expect no less from those with whom we serve."

General Michael E. Ryan
Chief of Staff
United States Air Force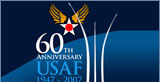 While the U.S. Air Force celebrates its 60th anniversary and commemorates six decades of air and space power, its roots actually stretch back to the virtual dawn of flight. Learn more about the storied history of the world's preeminent aerospace power by clicking the links below.


Part One

Discover the origins of the modern Air Force in the Army's Signal Corps during the early days of the 20th Century. Learn More »

Part Two
World War II saw air power truly come of age in the skies above the European and Pacific theatres. Learn More »

Part Three
The Air Force was instrumental in countering the Communist threat during the Cold War, from the close of WWII to the fall of the Berlin Wall. Learn More »

Part Four
Today's modern Air Force delivers global reach, global power and global engagement to defend and protect American citizens and allies anywhere, at any time. Learn More »



Air Force News:

Air Force Link
1st Headlines - Air Force
Airman Magazine
Air Force Magazine
AFPC News Service
USAFE News
PACAF News
Aerospace Power Journal
US TRANSCOM Current News
Air Force
Randolph AFB Wingspread

The Air Force Link is the official World Wide Web site of the United States Air Force. The mission of the U.S. Air Force is to defend the United States through control and exploitation of air and space. To achieve that mission, the Air Force has vision of Global Engagement: A Vision for the 21st Century. That vision orbits around six core competencies:
Locate any Aircraft Operating Air Facility throughout the World.
An interactive Database takes you to your location of choice.
The nearly 150,000-member Air Force Association, formed in 1946, is an independent, nonprofit, civilian aerospace organization that promotes public understanding of aerospace power and national defense.