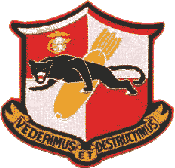 | | |
| --- | --- |
| www.earsopeneyeballsclick.com | |
Ears, Open. Eyeballs, Click: a movie that captures life in basic training for the marines with incredible clarity.

---
Marine Corps News:

All Marine Messages (ALMARS)
Marine Corps and Military News
Marine Administrative Messages
Navy/Marine Corps News
Marine Press Releases
Leatherneck
Marines Magazine Online
Marine Corps Gazette
Oo-Rah Magazine

Marine Corps History:
On November 10, 1775, the Continental Congress meeting in Philadelphia passed a resolution stating that "two Battalions of Marines be raised" for service as landing forces with the fleet. This resolution, established the Continental Marines and marked the birth date of the United States Marine Corps. Serving on land and at sea, these first Marines distinguished themselves in a number of important operations, including their first amphibious raid into the Bahamas in March 1776, under the command of Captain (later Major) Samuel Nicholas. Nicholas, the first commissioned officer in the Continental Marines, remained the senior Marine officer throughout the American Revolution and is considered to be the first Marine Commandant. The Treaty of Paris in April 1783 brought an end to the Revolutionary War and as the last of the Navy's ships were sold, the Continental Navy and Marines went out of existence.
---
Why I Serve: Young Marine Motivated by Discipline
By Lance Cpl. Lucian Friel
Special to American Forces Press Service
CAMP LEJEUNE, N.C., Dec. 2004 – "I just want to be successful at anything I do and I want to always be able to support myself," explained Pfc. Timothy A. Spreder. "That's why I joined the Marine Corps so early in life."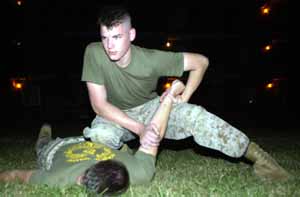 Marine Pfc. Timothy A. Spreder applies an arm bar on a fellow Marine during martial art training. Photo by Lance Cpl. Lucian Friel
(Click photo for screen-resolution image); high-resolution image available.
The Boone County, Ky., native became a Marine at age 17 with his parents' permission.
As a young man attending Simon Kenton High School, Spreder wasn't involved in many activities. As a 16-year-old without any direction in his life, he joined the Army National Guard's Bluegrass Challenge at Fort Knox, Ky. The challenge, which is a six-month boot camp-like program, helped Spreder receive his General Educational Development diploma.
"I knew the military was my only option, because high school wasn't working out for me, and I wanted the discipline the challenge offered," Spreder explained. "It put me on the path to success, because you can't go anywhere without a high school diploma."
Upon completing the challenge program, Spreder's parents signed his four-year contract with the Marines. He said his parents, Monica and Dale Spreder, provided him with the support he needed to accomplish the goals he wanted to reach.
"My mom and dad always supported me," Spreder said. "They knew I understood what I was getting into," he noted. "They taught me how to show respect for others, which was fine-tuned by the Marine Corps."
The receptions clerk is responsible for checking all new Marines into the 2d Marine Division. "I come in contact with all different types of Marines, so this job has enhanced my skills in dealing with people," Spreder said.
He said his aspirations are similar to most people's. "I just want to be successful at anything I do, and I want to always be able to support myself," he explained. "That's why I joined the Marine Corps so early in life."
As a Marine, Spreder has come to realize that a schedule can be more beneficial than he ever imagined. "Before I joined, it would take about two months for me to actually get things done," he said. "But now, life seems so much easier, because I get everything done ahead of time so I'm not rushed to complete it.
"I wanted to serve in the military. I knew it was what I was meant to do, and as a Marine I strive to be the best."
(Marine Lance Cpl. Lucian Friel is a combat correspondent with the 2nd Marine Division.)
Marine Corps' Core Values Remain Unchanged for 229 Years
By Kathleen T. Rhem
American Forces Press Service
WASHINGTON, Nov. 2004 -- Two hundred twenty-nine years ago, Marines came ashore from sailing ships; today they come off large amphibious ships. But the service's core values have remained the same, the top Marine general said.
"The young Marines today … are emulating the warrior ethic that the Marines who went before established," Marine Commandant Gen. Michael W. Hagee said Nov. 5 in an interview with the Pentagon Channel and American Forces Press Service.
Hagee, the Corps' 33rd commandant, explained that "Marines that have gone before us really set the standard" in famous battles such as Belleau Wood, in France in World War I; Iwo Jima, in Japan in World War II; and the Chosin Reservoir, in the Korean War.
As the Corps celebrates its 229th birthday today, modern Marines have much in common with those long-ago warriors, Hagee said. "We are a force in readiness, and we've always been a force in readiness," he said. "We're an expeditionary force, and by expeditionary I mean expeditionary in the fullest sense. In other words, when we arrive, we can sustain ourselves. And finally, we are a combined-arms team. That has remained the same for years and years."
Still, today's junior Marines shoulder much more responsibility than their predecessors. Hagee said the war on terrorism is "essentially a war at the squad-leader and platoon-leader level."
In 1999, then-Commandant Gen. Charles Krulak wrote of "the strategic corporal" – young Marines "far from the flagpole without the direct supervision of senior leadership."
Modern Marines "will be asked to deal with a bewildering array of challenges and threats," Krulak wrote in Marines magazine. "In order to succeed under such demanding conditions they will require unwavering maturity, judgment, and strength of character."
Hagee said the emergence of "the strategic corporal" makes it much more vital that Marines continue their education -- and that the Corps make education opportunities available to Marines.
"We've got corporals and sergeants out there making very important decisions. And they don't have time to get a 3x5 card out of their pocket, and they don't have time to check with anyone," he said. "They need to make the decision there. And in order to prepare them to do that, we have to properly educate them."
The commandant said he'd like to see that every Marine has the opportunity to earn at least a bachelor's degree over the course of a career.
In a wide-ranging interview about the past, present and future of the Marine Corps, Hagee said he's often inspired when visiting Marines who have been wounded in Iraq. He said it's "uplifting" to spend time with these young Marines.
"They're very proud of what they have done. They're not thinking about themselves," Hagee said of the wounded Marines he's visited. "They want to know how their unit is doing, and they consistently tell me, 'I am ready to go back.'"
The general also offered words on encouragement for those Marines who are manning home stations and are not deployed to a war zone. "What I tell the Marines who are back here in the United States is, 'Just think what you have done over the past year,'" Hagee said.
He noted that Marines who are not deployed are a vital part of training and equipping those who are deployed. "Without the support of Marines back here in the United States, the force protection and the capabilities of the Marines in theater would be much less," he said. "Everyone has an important job, whether you're forward or whether you're back here."
Speaking before Operation Al Fajr began in Fallujah, Iraq, on Nov. 8, Hagee said the Marines preparing to carry out that operation were ready for what they would face and were in good spirits. "I would argue that the reason they feel so confident is that they're properly equipped, properly trained, properly led, and they understand the importance of the mission," he said.
Looking to the future of the force, Hagee said the Corps would maintain its character and its three core missions: to maintain the service's force-in- readiness posture, to maintain a combined-arms team and to maintain the Marines' expeditionary character.
In short, he said, the Marines will remain "most ready (to respond) when the nation is least ready."
Biography:
Gen. Michael W. Hagee, USMC




---
A Tribute to the Fist Black Marines in WWII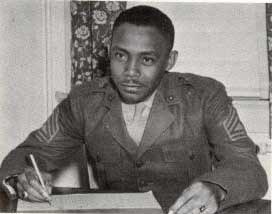 T/SGT JAMES E STEWART SR.

My father was one of the first black Marines. I was born at Montford Point.
This is a story that needs to get out. There were black Marines fighting in WWII on all the famous islands.

---