Veterans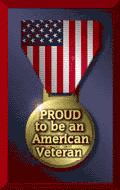 ---
World War II Vet Recalls Her Service in Women's Army Corps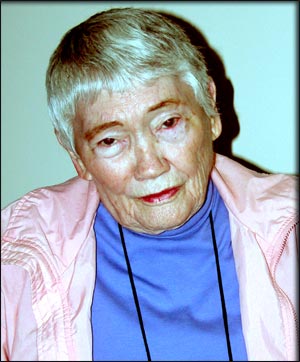 "Having Veterans Day is important because you get a lot of memories, but you never win anything fighting a war," said retired Army Sgt. 1st Class Ida Simpson, who lives at the Armed Forces Retirement Home in Washington. Photo by Rudi Williams

Veterans Day is special for Ida E. Simpson, because it gives her a chance to reflect on serving her country during World War II, which was something she thought a woman in those days wouldn't be able to do. The 82-year-old veteran spoke of her service in an interview at the Armed Forces Retirement Home here, where she resides.
Simpson, who joined the Women's Army Corps in January 1944, said she's proud of the fact that she was one of the "early ones."
When Simpson joined the Women's Army Corps, she said, she went into the Army Air Corps because "they were needing everybody they could round up and we, the women, wanted to do something to help."
She said she enlisted as soon as she finished Louisiana State Normal College, which is now Northwestern State University. She wanted to major in journalism, but was told there wasn't any future in journalism for a woman. So she majored in health and physical education.
"In the war, I was a switchboard operator with the 3341st Signal Battalion," she noted. "When I joined the Army I told them I wanted to go overseas, and they sent me to France after the June 6, 1944, D-Day invasion."
Her outfit sailed out of New York on Aug. 15, 1944, on a troop transport ship that had brought German prisoners from England to the United States. It took 15 days to cross the ocean because of bad weather and German U-boats, according to Simpson.
After more training in England, Simpson said, "They wouldn't tell us where we were going, but one night, they put us on a small boat and took us across the English Channel to Normandy Beach, France. You could see all the boats all torn up from the D-Day Invasion. It was really awful!
"They asked us if we wanted to look inside the German pill boxes (concrete machine-gun fortifications) to see the remains of the German soldiers and their weapons," she said. "I wasn't interested in that, but some of our people did it."
The women soldiers stayed on the beach about 10 days until all the landmines were cleared. "Then they put us in those big trucks and took us all day long and into the night to get to Paris -- the city of lights. But the only light we had were the moon and stars," Simpson said with a good-natured chuckle.
While in England, the women were taught how to operate field switchboards. "When we got to Paris, they assigned us to the 3341st Signal Battalion," she said. "We sent messages back and forth across the English Channel and all over the European Theater."
Simpson said the women put through hundreds of telephone calls every day. During each call they had to say, "Will you guard your conversation, please. The enemy may be listening."
"My roommates and I would wake each other at night saying that in our sleep," she said. "We would laugh about it, but it wasn't really funny."
The women stayed in Paris until after Victory in Europe Day, or VE Day.
"Before we left France, the French people wanted to show their appreciation for women who served there during the war," Simpson noted. "So they had a big parade for us that went all the way from the Arc de Triomphe to the end of the Champs-Elysees."
The former noncommissioned officer said women soldiers lived in a beautiful chateau in Compiegne, France, that had a fireplace in every room. "Our troops lived up on the hill in tents," she said. "I felt sorry for them, but not sorry enough to give up my fireplace."
When the personnel processing center was moved to Le Havre, France, Simpson said she could have returned to the United States, but she stayed until she felt her company could get along with fewer people.
Returning home in March 1946, she was discharged from the Army, and tried civilian life for a while. "There still wasn't much for a woman to do to earn any money," Simpson noted. "So I re-enlisted to participate in the Berlin Airlift, but wasn't able to do so because I caught pneumonia during processing at Fort Dix, N.J."
Simpson ended up working at a separation center at Camp Kilmer, N.J. That's where she finally got a chance to become a journalist. "My commanding officer found out about an opening on the Kilmer Eagle newspaper and suggested that I try for the job," she said. "They took me in and taught me how to write, and I became a journalist, which was what I'd always wanted to do."
In the interview, Simpson spoke on the significance of Veterans Day. "Having Veterans Day is important because you get a lot of memories, but you never win anything fighting a war," she said, "especially the people who have the burden of fighting the war."
Dedicated to our fallen heroes and all past and present servicemembers, who unselfishly have given their lives and continue to put themselves in Harms Way.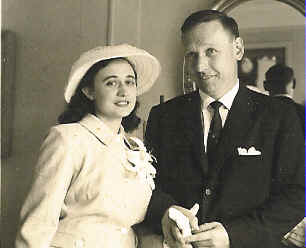 Ralph W. Ashland, with his war bride, Jacqueline, bringing nations together.
This site is dedicated to Ralph Waldo Ashland, 01.12.22 - 15.09.84, a WWII Veteran, who landed on the beaches of Normandy on D Day, June 6th, 1944 and stayed in the European Theater until his death, dedicating his life to the preservation of freedom and democracy. Whether by his role in the de-nazification of Germany or helping to rebuild Europe, his legacy lives on and is not forgotten.